Last Updated:

Sep 13, 2018 - 11:33:31 AM
---
Across the ages women have often served in wars, especially during sieges. But formal military service by women was relatively unusual, though a number of queens are known to have led armies in the field and individual women warriors are not unknown in many cultures. Fore example, the women of the Greek city-state of Tegea took up arms around 750 BC to help their men fight the Spartans, and more recently such women as Joan of Arc (c. 1412-1431), who led the armies of France for a time during the Hundred Years' War, Catalina de Erauso (1592-1650), a former nun who rose to lieutenant in the Spanish Army, and Nadezhda Andreyevna Durova (1783-1866), Russia's "Cavalry Maiden," who was made a captain and awarded the Cross of St. George by Tsar Alexander I for her services against Napoleon. During the Great War an unknown of number of women managed to get to the front as combatants, some openly.
Several of these women attained some distinction.
Maria Leontievna Bochkareva (1889-1920), a Russian peasant. Shortly after the outbreak of the war she secured permission from Tsar Nicholas himself to join the 25th Tomsk Reserve Infantry Battalion. Initially treated badly by her male comrades, she soon proved an able soldier and was wounded and decorated several times. When the Tsar was overthrown, Alexander Kerensky, Provisional Government War Minister, commissioned her to form a women's battalion, and she quickly raised what came to be known as the "Battalion of Death," establishing rigid discipline. The battalion was engaged during the final Russian offensive in July of 1917, and helped defend the Winter Palace during the Bolshevik Revoution, but was then dissolved by the Communists, who later shot Bochkareva.
Hélène Dutrieu (1877-1961), a Belgian daredevil, cycling champion (Grand Prix d'Europe, Course de 12 Jours, etc.), motorcyclist, and stunt driver. She learned to fly in 1908 and set many women's and world flying records. In 1914 she volunteered to conduct reconnaissance flights which helped develop the intelligence that led to the Battle of the Marne, but spent most of the war as an ambulance driver, and later was director of a military hospital. Postwar she was a journalist, continued her interest in aviation, and endowed an annual 200,000-franc prize for the Belgian or French woman who makes the longest non-stop solo flight.
Lyubov A. Golanchikova (d. 1961), a stage actress and vaudeville dancer known as "Milly More", received a flying certificate in 1911 from a Tsarist military aviation school. In 1913 she set a women's altitude record of 7,218 feet in a Fokker Eindecker, gaining considerable attention and apparently helping convince the German Army to adopted the Eindecker for their air service. Early in the war she performed reconnaissance missions for the Russian Army using her own plane. She later flew for the Bolsheviks during the Russian Civil War, but eventually fled Russia. Golanchikova eventually settled in New York, where she worked as cab driver.
Rimma Ivanova (1894-1915), a Russian nurse. On September 9, 1915 she was serving with a company of the 105th Infantry Regiment. When all the regiment's officers were killed, Ivanova put herself at the head of the troops and led a successful attack, during which she was herself killed. Tsar Nicholas II posthumously awarded her the Order of St. George (normally reserved for officers), the first awarded to a woman since Nadezhda Andreyevna Durova, noted above, received it during the Napoleonic Wars.
Dorothy Lawrence (1896-1964), an aspiring British journalist, traveled to France in 1915 hoping to work as a free lance reporter, but was refused permission to visit the Front. She shortly secured a uniform and proceeded to the front with false papers identifying her as Private Denis Smith, 1st Battalion, Leicestershire Regiment. Lawrence attached herself to the 179th Tunneling Company, Royal Engineers. Her precise activities at the front are in doubt; she claimed to have worked as a tunneler, but that was a specialized skill she surely lacked, and she probably worked as a laborer, hauling spoil out of the tunnels. After ten days she became ill, and turned herself in. Initially detained as a spy, she was then held as a prostitute, and after that had been cleared up, was held as a security risk until after the Battle of Loos (September 25-October 14). She continued work as a journalist for the rest of the war, and wrote Sapper Dorothy Lawrence: The Only English Woman Soldier. Her later life was unfortunate, as her mental state deteriorated and in the 1920s she was committed to an insane asylum.
Marie Marvingt (1875-1963), a French athlete (prizes in cycling, fencing, gymnastics, swimming, etc.), alpinist, journalist, and aviator, who earned the sobriquet "La Fiancée du Danger – the Fiancé of Danger." With the help of an infantry lieutenant she disguised herself as a man in 1914 and joined the 42ème Bataillon de Chasseurs à Pied until discovered. She then went to Italy and joined the 3º Reggimento alpini at the front for a time in 1915. Later that year she volunteered to fly bombing missions, and was awarded the Croix de Guerre for a raid on a German installation near Metz. In the interwar years she became a journalist, promoting the use of airplanes for medical evacuation, and was a pioneer in aviation medicine. During the Nazi occupation, she joined the Resistance. After the war she helped form the women's' service of the French Air Force, and remained an active flyer and athlete until her death. For a time rumors circulated that she was Marshal Foch's lover.
Emilienne Moreau (1898-1971), a French grocer's daughter. On Sep. 25, 1915, during the battle of Loos, she aided troops of the Black Watch who liberated her village, leading them through back yards and byways to attack German machine gun nests, and herself threw grenades and wielded a pistol, killing two Germans. She was awarded the Croix de Guerre, the British Military Medal, and other decorations. Postwar she married and became active in the socialist movement. During World War II she served in the Resistance, and postwar was a member of the Consultative Assembly. She was made Chevalier of the Legion of Honor and a Companion of the Order of Liberation, one of only six women so honored.
Flora Sandes (1876-1956), a British nurse, joined the St. John Ambulance Corps in 1914 for service on the Serbian front, but shortly afterwards enlisted openly in the Serbian Army. She served in combat against the Bulgarians with the 2nd Infantry Regiment, and after an action in 1916 was awarded the Karageorge Cross and a promotion to sergeant major. Wounds prevented her from returning to the front, but she ran a hospital for the rest of the war and eventually received a promotion to captain.
Eugenie Mikhailovna Shakhovskaya (1889-1920), a Russian princess, learned to fly before the war, and was probably the first woman pilot to undertake military reconnaissance flights, over East Prussia with the Russian 1st Field Air Squadron in 1914. A political radical, she was later charged with treason and sentenced to death by firing squad, which the Tsar commuted to life imprisonment. Freed by the Bolsheviks, she became a communist, joined the Cheka (the proto-KGB), and was the chief Soviet executioner in Kiev. In 1920, while high on drugs (to which she was addicted), she shot one of her staff, for which she was executed.
Milunka Savić (1890-1973), a Serb, in October of 1912 disguised herself as her brother Milan and took his place in the ranks during the First Balkan War. She rose to corporal and was decorated, but during the Second Balkan War she was wounded in the Battle of Bregalnička (June 30-July 8, 1913), and her sex revealed. In 1914 she served openly in the 2nd Infantry Regiment, in which Flora Sandes also served. Decorated again, although seriously wounded Savić took part in the Serbian retreat to the sea through Albania. Upon recovery she returned to her regiment on the Salonika Front, serving to the end of the war. Among her many feats of arms was the single-handed capture of 23 Bulgarian soldiers during a trench raid. Postwar she married, had a daughter, divorced, held menial jobs, and was imprisoned for resisting German occupation during World War II. She was later pensioned by the Yugoslav communist government. By some accounts the most decorated woman veteran in history, Savić had three Serbian medals for valor, including the gold and silver medals for bravery and Order of the Star of Karađorđe with Swords, two ranks of the French Legion of Honor and the Croix de guerre avec palme, the Russian St. George Cross, and more.
Ecaterina Teodoroiu (1894-1917), a Romanian elementary school teacher. When her country entered the war in 1916 she became a nurse, working near the front. After her brother was killed, she decided to take his place, and after battling the bureaucracy, was permitted to enlist. Early in her service she was wounded and captured but escaped, reportedly after killing two or three German soldiers. Upon recovery she was decorated with the Medalia "Virtutea Militară" 1st Class and commissioned a 2nd Lieutenant and platoon commander. She was killed in action on September 3, 1917, during the Battle of Mărăşeşti; her last words reportedly were "Forward, men, I'm still with you!"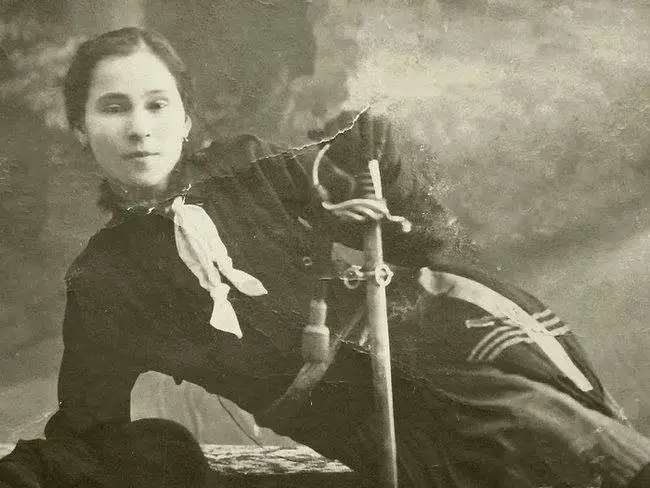 Ecaterina Teodoroiu.
Courtesy Wikipedia
The number of women who actually took up arms during the war is unknown and cannot even be estimated. No women appear to have served in the German Army, and only a few managed to get into British or French uniforms, but many served in eastern and southeastern Europe, as there was some history of women in arms in the various Balkan states and the Russian Army. There are sketchy reports about some other women who served, mostly in Eastern Europe, such as the Russians Natalie Tychmini and Olga Krasilnikova, both of whom are reported to have been in numerous battles in Poland or Galicia in 1915, until wounded and sent to the rear, though details are scarce. On the other hand, there are also some more dubious claims, such as the story of one "Madame Arno," a "French artist" who supposedly raised a regiment of women in Paris in 1915, a tale repeated many times, but which cannot be confirmed by any reliable source.
Source:Ocnus.net 2018

Top of Page